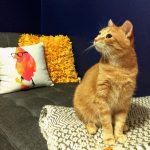 We had been looking at adopting another cat to serve as a mediator between our two other cats, and had been spending our weekends visiting the cats at Cats Cradle in January of this year.
We got a lot of great advice from the staff and volunteers on which temperaments may be good to look for among the cats as well as some potential cats that might mesh well with our cats. The weekend we came back to make a decision, our favorites were gone.  We didn't expect to find a cat that day and planned on coming back.
But this little guy had just arrived and he won us over with his mellow and friendly demeanor.  We kept his name and brought him home and we are so happy to have found him.
Shepherd is a window cat and spends a lot of time watching and talking to the birds outside. He's got a unique gentle and playful energy that's won us all over.  The best part is that he's a bit of a mimic: He returns our male cats more aggressive play but treats our female cat with an affectionate gentleness that's won her over.
Our older male cat is getting slimmer from the extra play he is getting with his new buddy, and our older female cat is just relieved she's not being bothered anymore, and we're just delighted with the little personality we've brought into our home.
We're so grateful for organizations like Cat's Cradle, and the dedicated people who help find good homes for these cats.
-Brittany and family