The Healing Power of Lily: An Adoption Story
By
Morgan Sabbe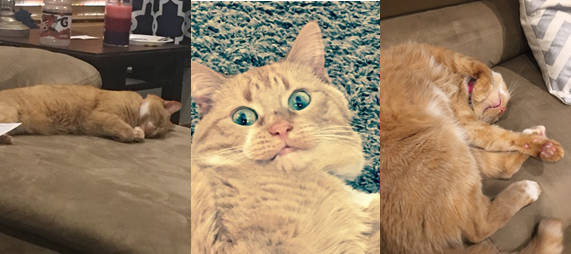 Meet Lily.  She came into my life at a time after I'd experienced a loss and filled the void in my families' heart.  Though our story is bitter sweet, I wouldn't change it for anything and I have Cat's Cradle Shelter to thank for that.
From the start, I've never been a "cat lover." I just never thought about them. I grew up with dogs and so assumed, I'd just get a dog. This isn't to say I hated cats. I loved animals, but cats were, well, cats. I was looking for a pet who wanted to be with me.
However, that all changed when I met my husband in 2010 who, of course, liked cats. If he had a pet, it'd be a cat. I think he intuitively knew that if we got a dog he would bear the brunt of the work, i.e. all the outside walks, bathroom duties, feeding times, and clean ups while I got to do the fun stuff. (This absolutely would have happened. I can admit that.)
Then, one day, I found a stray cat wondering around a building that I managed.  The first thing I noticed was how friendly he was. This was strange as I always had the impression that cats were unfriendly, snotty, and standoffish. (Hence the dilemma. I wanted a pet that would basically love me no matter what. I'm a needy pet owner. I can admit that too.) Yet, this cat wasn't like that.  He walked up to me right away and let me pick him up. He actually wanted me to pet him. He did look starved so there probably was some ulterior motives at play.
A few days and one vet trip later, I found out that he had no owner. We decided to keep him even though he have a bad case of ear mites and worms. We named him Carlton. He was probably the start of my becoming a "cat lady." He showed me that my cat stereotypes weren't accurate.  He's warm, loveable, and loves me unconditionally.  A few years later, and after finding out that Carlton HATES dogs, (a different story altogether), I starting talking about getting a second cat so Carlton wasn't alone all day. This was when Dakota came into our life.
Again, Dakota was another "rescue" of sorts.  My husband's cousin found this baby kitten in a bush outside her apartment complex.  Since she wasn't allowed to have pets at her apartment, she called us.  Dakota was tiny and adorable. I couldn't say no! His mother had abandoned him. When I brought him to the vet they estimated he was about 3 to 4 weeks old.
We fell in love with Dakota instantly even though he was so different than Carlton. Carlton is like an old man. He likes to cuddle with his mom, eat, sleep and well, that's about it. Dakota liked to play, eat ice cream, look out our huge picture window that overlooks the cherry blossom tree. Every night, he'd settle in to sleep on my pillow with Carlton or under our bed. For three years, he was a major part of our family.
It was in early January 2014 when we woke up to Dakota clawing at the bathroom door. He'd often play with my robe strings to the point of accidently shutting the door on himself after which he'd erupt in panic. We got up to let him out as we'd done many times before. But this time something was different. We watched him walk into our bedroom where he hissed loudly and then, dropped dead on our bedroom floor. We were traumatized, buried under an ocean of grief. I remember little from that morning other than crying so hard it looked like I'd been punched in the face.
Dakota's death affected all of us, especially Carlton.  After his death I walked into our bedroom to find Carlton sitting on the floor staring at the spot where Dakota had passed not long before. Often, Carlton howled while wandering the house looking for Dakota. He would sit on my lap as I cried holding Dakota's collar in my hand.
As time passed and our grief healed, I told my husband it was time to adopt another cat. I knew we'd adopt as we wanted to give an unwanted animal a new home and a better life.  I searched online and went to the pound to see about adopting.  During this time, I was talking on the phone with a friend (a fellow cat lady who served as a reference on our pet adoption applications) and she mentioned a place called Cat's Cradle Shelter.  I hadn't heard of them before but I was intrigued.  I did my research and off we went.
Upon arriving at Cat's Cradle, the first thing I noticed was that the cats weren't in cages! Other shelters keep animals in cages most of the time. Then, if you're interested, you go into a room and "play" with them. Though the cats appear to be well kept, seeing them in cages is still pretty depressing. But it's not like this at Cat's Cradle. Cats are kept in community rooms where you can visit with them while they roam freely. It's basically a "cat lady's" dream!
I was looking for the "right" cat and I found her in the first room I walked into. A small orange cat named, Bambi, walked right up to me. A volunteer told me she was one of a batch of kittens that was recently found behind a Walgreens in Moorhead. I picked her up and she instantly nuzzled her face into my shoulder. My heart melted!
As we walked from room to room, playing and petting other cats my mind kept going back to Bambi.  After all my research, and time obsessing over adopting, this was it. We wanted her. We came back for her the very next day. The first thing we learned about her was…boy, does she HATE car rides!
Carlton's experience with her was equally hilarious. He wanted to be everywhere she was. He followed her from room to room.  She would bolt in terror but he didn't give up, no matter how much she swatted at him. She made herself at home quickly spending her first night in her new home sleeping on her mom's face. Obviously, I couldn't be rude so I let her. Plus, it was so cute!  We changed her name to Lily and never looked back.
Cat's Cradle is truly amazing to work with. I knew the minute I walked in that I was going to find my new pet.  It's so obvious how much they care about their kittens and cats. I even saw several other cats get adopted that same day! Pets, like people, need love and it was heartwarming to see these wonderful people making a difference. Not only for the cats, but for us. Though our journey to finding Lily began with a tremendous loss, it's clear now that she was the one that truly helped us heal.
It's so important that all animals get a chance to be part of a family and to find their forever home. For them as well as for us! That's why I tell everyone I meet about Cat's Cradle because they're making this happen in the most amazing way.